Jay Rambhia,
AH7-259,
BITS,Pilani KK Birla Goa Campus,
Zuarinagar,
Goa - 403726.
This is my address, just in case if you want to send me something. (I love fan mails) !!
Last week I had to visit Zuarinagar due to some non-negotiable reasons. Vibhor was accompanying me. It was a usual friday evening and we were having snacks in mess with friends. BUZZ…BUZZ..BUZZ.. I hurriedly picked up my phone and showed it to Vibhor and we knew it was The Time ! We knew it was coming. We had to get our asses out from the campus ASAP, otherwise the whole human race had to pay for the consequences. It was non-negotiable and it was coming really…really fast. Fear had paralyzed our every neuron transfer from brains.( I'm just blabbing here.. I don't have much interest in neuroscience and I know nothing about it. So just to make it complicated I'm adding few things here and there.) We couldn't flex a single muscle for a bit. And then we hurriedly got up from the chair unable to maintain the balance, the chair fell down with a THUD!! It felt like everybody in mess was staring with wide eyes and a menacing glance at us. It felt like all the zombies had replaced the people in mess and they wanted to bite us and have some party! But we ain't such fools. We ran out of the building without wasting a single moment. Few people/zombies tried to catch us midway, but were unsuccessful. Vibhor is a Pandey and there is a Pandey within all of us ( not in zombies though ). We couldn't let them catch and bite us. Pandey peered hot coffee in a goddamn zombie's goddamn eye. He cried in pain.( C'mon.. At least we can assign zombies a gender. We are not even giving them a "within Pandey" attitude.) Another mind fuckingly dumb Zombie tried caught my hand and tried to bite me, but Pandey kicked his mind boggling nuts out. Mind Boggling!! In a second an old grumpy zombie zapped on me and by mistake his hand got stuck in my hair. Like the bike in Well of Death, I gave him enough angular velocity via rotating myself, but who knew his hand would break! THWACK!! Fan-Fatality!! The old grumpy body of the old grumpy zombie got a fan-fatality. But alas! His hand is still lost. A freaky zombie was running towards Vibhor, to save his ass I jumped in between and did BUKABOO!! He peed in his pants. What a pussy!! Making our way like Noddy, we ran and ran and ran till we reached the eternity. Actually that would have been really cool, but we exhausted and just ran till the hostel.
Reaching the hostel, Vibhor knew what he had to do. He grabbed a bottle of water from Buddha's. Panting, throbbing we somehow made our way to our hostel room. KDACKK! Don't worry it's just the bolt. We didn't have much time. We had to leave the campus before sunset. We decided we would leave in an hour or so, at 6 pm. I knew the meantime was going to be really dull. So I just went to Debvrat's. He was playing Unreal Tournament 2004 on LAN. And as mentioned by himself only he is a great player, but he should have accepted it he was looking like a noob standing their with only few frags and a countless deaths. O! Lord save him from the mind numbingly/fuckingly (U/PG) insane curse/virus (optimist/pessimist) that made people so mind numbingly/fuckingly dumb that they looked worse compared to zombies. But let's just say that they were becoming zombies. "O! Lord save my little friend Debvrat from this insane thing !", I prayed when I saw how badly he was being fucked in UT2004. The number flashed in front of my eyes. It was Debvrat's noob clock, it showed 5:51 pm. But it is 4 min late. So "The Number" flashed in front of me. 5:55 !! My eyes popped out of my specs as if I got some 4000000000000000V shock! I ran to my room. ! BANG ! I crashed in the door, my head was whirling in pain like a vortex of entropy but I had to go, So I got up on my feet, went in unbolting the door. Changed in my jeans. Got my backpack ready. Got all the stuff that I needed. ID card, ATM card, etc. My hands were throbbing in fear. It was now or never. I got in my shoes as fast as I can.
PING! It was Vibhor. He pinged me on GTalk and said "I am going to make some shit now. So we would go in 10 mins or so"
After long waiting of 15 mins, we left the hostel. And now it was the most difficult time as we had to go to the gate and get our asses out in time. And everybody knew these guards smell ! Yeah.. they smell bad actually, sometimes though. We checked out with a faint smile on our faces. But we knew something was fishy in there, so we walked out of there ASAP.
We went straight towards Vasco on NH-17B highway. It was a pleasant evening except all the zombie shit. It was sunset time. And sun was looking so beautiful. Sun was hiding behind the mountains, creating a blend of Yellow, Orange, and Violet colors in the blue sky. with every passing moment, it was descending as if giving all the powers to moon and was looking more and more awesome. So pleasant to eyes, that you could even gaze into it. The atmosphere was so mind fuckingly awesome that I wished to saty there for a while. Vibhor wanted a photo of him, in case he he didn't return !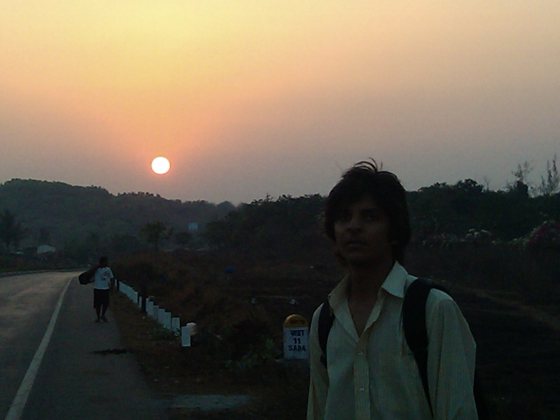 Vibhor looking in despair that why did we choose to save the Earth ?? where as someone other could do.
It was really stunning view when planes passed overhead spearing the air, making mind fuckingly loud noise and cutting the purple/orange sky.
We had to move fast but cautiously as the cars on highway go at full speed and there is really small place to walk by. Our asses were on fire but we had to keep ourselves cool. After all we were the chosen Agents to help the human race survive. With every step we took, we knew we were one step closer to death! We somehow managed to cross the road. A man was yelling some nonsense, trying to call someone sitting on the divider.
We entered to the short-cut way to Zuari/Zari. And it was all over there. SHIT. Each bit of that road was filled with stink and shit. We couldn't place our feet down without getting it full of shit. So we jumped. And reached in the village. As soon as we entered Vibhor saw him. He who can't be named in this post. He knew he was a possible danger to this mission, and he could get us in big trouble. But he kept his cool. And instructed me to walk straight down the alley and not to look back. I followed him. We sped up and walk as fast as we could but without being recognized. And there it was! The way to the solution of all this mind fuckingly insane problem. We were so close, but there he was, he who can't be named in this post. We had to move away from the target. It was a great conspiracy. But we had to do what we had to do. So we took a left and went ahead running as fast as we could. We were no longer followed, but still danger was right there. So we had to find some alternate way to reach the target. We went ahead searching for all the possibilities. But we couldn't find any as we were distracted by all the SHIT on the road. I haven't seen such shitty road ever before in my life. Huge stinky shit spread all over the road. Oh I hate that place. So stinky and so shitty. No place to walk.
We walked for few minutes and then we stopped. Our eyes stopped. Our breath stopped. A mind fuckingly beautiful dog had been a victim of the insanity!!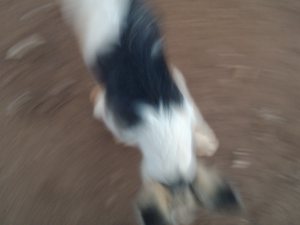 Poor dog affected with insanity"
The insane virus had affected human race hazardously. But nobody knew it also made this beautiful dog its prey. Kedar loves dogs so much. He would have died if he had seen this dog roaming in  such insanity.
Poor dog had no shelter and was resting in his own poop. When we tried to take a photo of him, he started rotating like a whirlpool with energy of a large hadron collider. We were thrown meters away, but somehow managed to not get in all the shit that was on the road. Now, ain't we smart!!
We tried to take another picture, but he came running like an angry bull towards us and like an expert matador i tricked him. But I only managed to get the back of him. We had to collect proof of insanity, so that we could present our case in the court and get the company down which created the mind fuckingly insane virus.
We had to observe more insanity so that we could prepare ourselves for the worst. So we kept moving on. After walking few long minutes, making our way out of full shit, we reached near a church. We went to the gate, but out of luck, it was closed. So we returned back and just prayed to God to rain some mercy and remove all the shit and insanity.
Now making our way to an alternate option passing through all the shit on the road, we reached a place where we could get some help. But it was just a illusion. No one could help us in saving the human race and that poor dog. Walking ahead for sometime and taking a non-shitty route we reached a dead-end and soon we realized that there was no alternate way. Just one target existed and it was supposed to be terminated before 10:30 pm.
We were lost. We had no clue. We thought to abort the mission! But it was not an option. We had come too far. Now it was do or die. We had to make the choice. And we had to make it quick. We wandered here and there for sometime and then our heartbeat stopped. We saw something that was not only impossible to believe but also mid fuckingly insane. The insane virus had also affected botanical life form on Earth.
We instantly decided to go back to the target and terminate it before this mind fuckingly insane virus affects more and more living beings. We took big steps, making our way from the shit, ran ! We were so dazzled watching such horrific things that we couldn't concentrate on our plan. We needed something to take our mind off. We needed a bit of motivation that sane things still exist in this world and we are doing all this for them.
We walked through non-shitty road, avoiding all the insane things. And as we walked, I turned my head to left and my jaw dropped. I was stunned by the beauty of the nature. So pleasant, so Awesome. Blend of Orange and purple color in blue sky over green mountains! So terrific! This was the motivation we needed. We had to do what we had to do to save the human race otherwise this beauty would be of no use.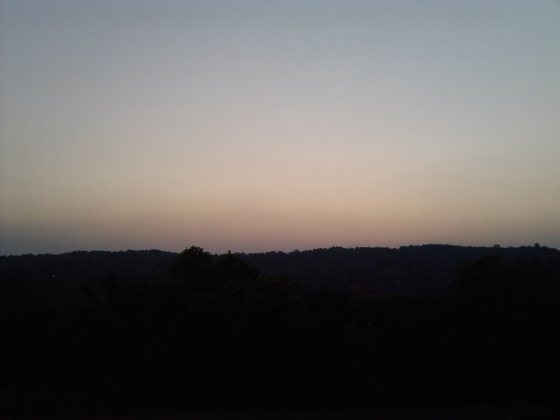 Sunset in Zuarinagar
We found more beauty ahead. Huge green trees still not affected by insanity of this shitty village. Non-shitty places with huge trees with a background of sunset !! What else do you want ?! A clean village with no shit on the roads, less polluted atmosphere, more electricity, more greenery, more attention !! I know. But as of now all we have is this
All we have is this. This was the only sane place that we could find in Zari. And it is our responsibility to protect this nature and this treasure that we are gifted with. Goa is a beautiful place,green place with lots of tourists and there is a huge possibility of Goa being destroyed/deserted/shitty as Zari if we don't take proper care, don't try to protect. So wake up and protect Goa. Protect out natural beauty that we are gifted with. India is a lost cause. And as a Mumbaikar I know, that Mumbai is also a lost cause. It's done. It has become completely insane. But Goa hasn't and more Importantly BITS has not !!** Save our Campus.We don't want shitty roads like Zari. We don't want shitty water like zari. We don't want crappy environment like zari!! So **Wake Up BITSians !! Make our campus clean and green !! Please don't throw ice cream cups/papers and drinking cups/bottles in gutters/road. Please use garbage bins. We are provided with lots of bins that we have it on every corner. Please use them !! And try to recycle/reuse !!  Please** do not litter** !!
I hope you also get frustrated with all the stinky sewage air, shitty roads !! So wake up. Keep your campus clean and green !! And atmosphere non-polluted !!
Just a thought :
What's the cause for the mind fuckingly insane virus ?? The Zuarinagar Industry or Shitty Roads ( Due to ignorance ) ?? or both !!
Adios.
P.S. We saw a mind fuckingly insane Lamborgini on the way back to campus.
Playing around with Android UI
Articles focusing on Android UI - playing around with ViewPagers, CoordinatorLayout, meaningful motions and animations, implementing difficult customized views, etc.